UII Facilitates Dialogue on Religious Tolerance with Serbi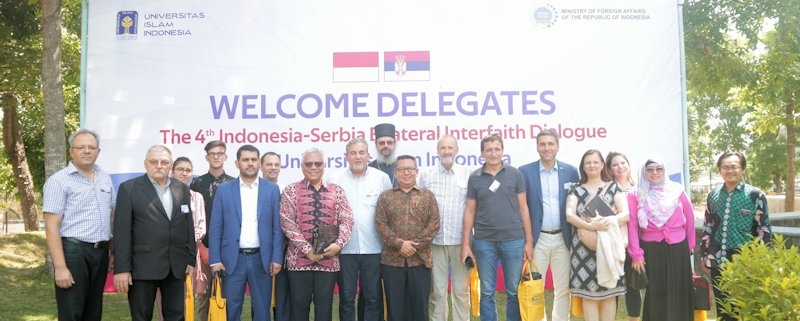 The higher the diversity that a country has, it doesn't necessarily make it easily disintegrated. Indonesia is an evidence of that, where thousands of ethnicities, languages and at least six recognized religions can live side by side. Diversity, if managed well, becomes a proof of authentic uniqueness and strength in pushing a nation forward. 
This theme is the main focus of discussion in the Public Lecture at The 4th Indonesia-Serbia Bilateral Interfaith Dialogue (ISBID) taking place at Main Library Building, Integrated Campus of Universitas Islam Indonesia (UII) on Thursday, (24/10). UII earned the mandate to become facilitator of this event because it has been regarded as one of intense proponent of moderate Islam and inter-community dialogue. 
"There are plenty more lessons we must learn from our fellow brothers in Indonesia. We (Serbia) are relatively young in terms of inter-institutional participation and cooperation," said Isihije Rogić, Serbian Orthodox Bishop of Mohač who discussed work relations about what has been achieved and what will be the targets in the future. This 4th series of interfaith dialogues is a demonstration of consistent synergistic cooperation between Indonesia and Serbia.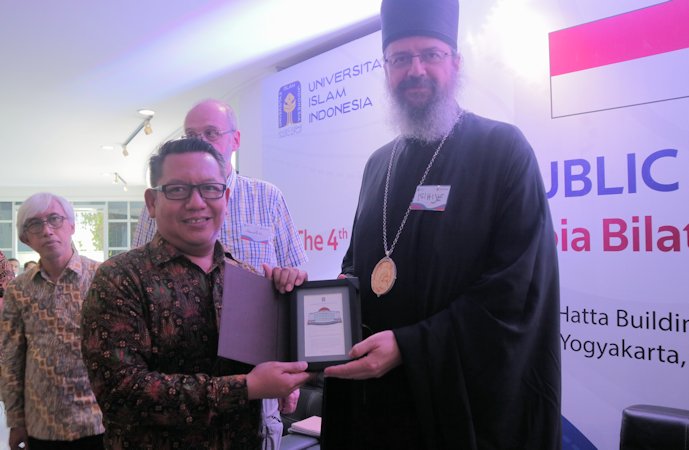 Different from Isihije, Prof. Dr. Abdullah Numan, Deputy of Reisul-Ulema of the Islamic Community of Serbia and Mufti of Serbia, reviewed the development of multiculturalism and interfaith cooperation. In his opinion, to live together amidst the differences, constitutional legality should always be regarded carefully, while working hard for everyone. 
"In Indonesia, the example is Pancasila. The first principle accentuates and allows people to choose their faith," Abdullah said. Besides that, he also expressed that there is no religion that teaches hate, religion teaches love and mercy. "There is no coercion in choosing religion. We can walk a horse to a mudhole, but we can't force it to drink the water," he explained. 
Meanwhile, Dr Ferid Bulić, Assistant Director in the Department for Interfaith Dialogue, Ministry of Justice – Administration for Cooperation with Churches and Religious Communities – elucidated religious rights in Serbia and interreligious dialogue. "In Serbia, there are 7 recognized traditional religions," Ferid said. Before going further, he emphasized that openness in constitutional ground, especially on religion, is pivotal. 
Ir. Wiryono Raharjo, M.Arch., Ph.D., Deputy of Rector in Networking & Entrepreneurship attended the event as the fourth speaker responding that this dialogue brings positive impact to counterparts or even students, which is then followed by future activities and targets. 
In addition to these four invited speakers, attending among the audience is H.E. The Indonesian Ambassador for Serbia, Mochammad Chandra Widya Yudha. Together with Serbian students currently residing and studying in Indonesia, His Excellency appreciated this event and advise the students to maintain relations with one another and learn the lessons from the differences between their cultures. 
Tolerance in Indonesia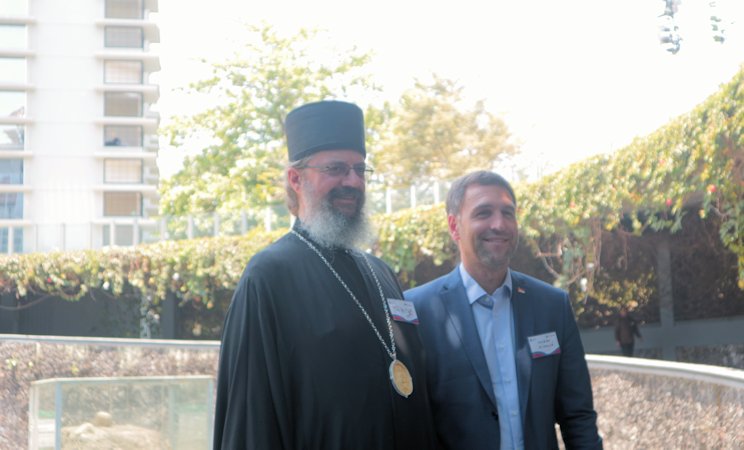 Indonesia has been recognized worldwide as a country that upholds tolerance vigorously, even Indonesia has become the host of United Nations Alliance of Civilizations (UNAC) held in Bali in August 2014. Quoting Hendardi (2018) The Index of Tolerant Cities (IKT) in 2018 exhibited 10 most tolerant cities in Indonesia to promote and provide a role model for other cities in Indonesia. 
Ultimately, religious differences can find a melting point in constitutional legality. It requires an open mind and dialogue between religious leaders to reach comprehensive understanding regarding agreed values. "Religions teaches love and mercy. It is no longer the time to blame each other, show that love is so much more than hate," Abdullah asserted, ending his Q & A session.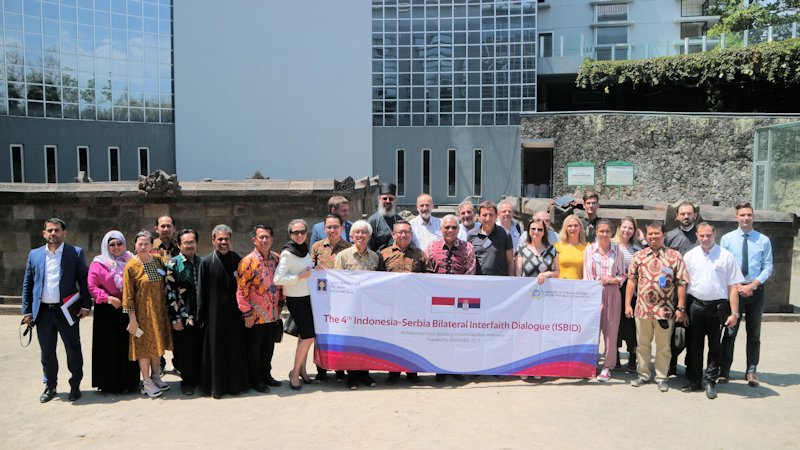 (IG/ESP)
https://www.uii.ac.id/wp-content/uploads/2019/10/indonesia-serbia-uii-dialogue-2.jpg
450
800
humas
https://www.uii.ac.id/wp-content/uploads/2019/08/Logo-UII-2019-H2.png
humas
2019-10-25 18:20:00
2020-04-15 12:30:06
UII Facilitates Dialogue on Religious Tolerance with Serbi