UII Joins Consortium to Advance Research Assessment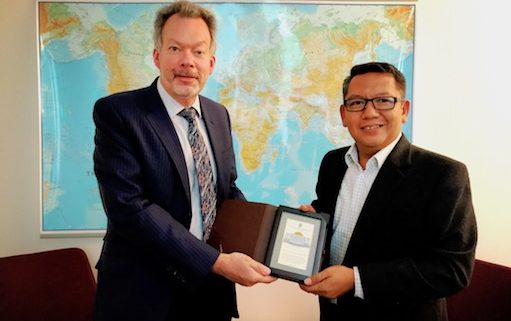 Research has been perceived as one of important tools in measuring the quality of higher education institutions. Universitas Islam Indonesia (UII) research collaboration has taken a further step forward with the creation of consortium consisting 10 other universities from seven countries to improve the institutional capacity for research.
These include Universitas Gadjah Mada (Indonesia), Universiti Teknologi Malaysia, Universiti Teknologi Mara (Malaysia), The National Institute of Development Administration, Burapha University (Thailand), Matej Bel University, University of Economics in Bratislava (Slovakia), Warszaw School of Economics (Poland), University of Bath (The United Kingdom), and Universite Bl. Pascal Clermont-Ferrand II (France).
As part of this partnership, the consortium shares bold research ideas at the workshop on the Development of the System of the Assessment of Research Impact. The workshop took place at the University of Bath (UoB), UK, attended by all consortium members, including Fathul Wahid, Ph.D. (Rector of UII) and Wiryono Raharjo, Ph.D. (Vice Rector for Partnership and Entrepreneurship) as the delegations from UII.
"This workshop is aimed at developing a research assessment system that can be used not only by members of the consortium, but also expected to inspire other universities," Fathul Wahid says.
"We hope this consortium will open up great opportunities for expanding UII's global network," Wiryono Raharjo says.
"These include prospective partnership with University of Bath. We had a very good talks with Professor Jeremy Bradshaw, Pro-Vice-Chancellor (International & Doctoral)," he says.
UII-UoB will work together to provide young lecturers with the opportunity to undertake higher research degree through joint doctoral program. The two universities also explore the possibility for joint research by opening up these opportunities through external funding sources, including Indonesian Higher Education Ministry and any prospective international institution.
This consortium activities are funded by the European Union through the Erasmus + Capacity Building for Higher Education (CBHE) scheme. In 2019, it is expected that this three-year joint activities will result a series of diverse modules for training in research-related expertise and research assessment systems. (FW/HF)
—
This article was originally published in Bahasa Indonesia.
https://www.uii.ac.id/wp-content/uploads/2018/06/IMG_4413.jpg
330
511
Hangga Fathana
https://www.uii.ac.id/wp-content/uploads/2019/08/Logo-UII-2019-H2.png
Hangga Fathana
2018-06-20 18:17:34
2018-06-21 02:04:57
UII Joins Consortium to Advance Research Assessment