Students of UII and UTP Malaysia Committed to Continue Social Project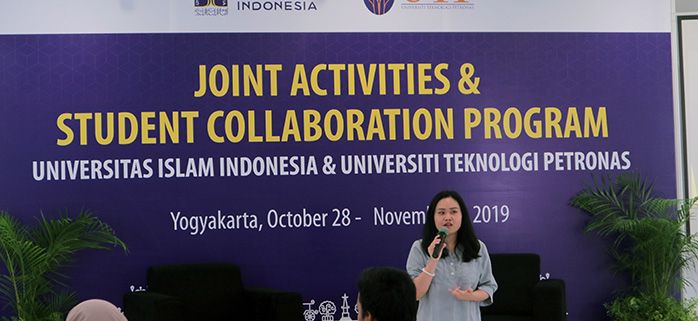 A series of collaboration entitled Joint Activities & Student Collaboration Program of Universitas Islam Indonesia (UII) and Universiti Teknologi Petronas (UTP) Malaysia was officially closed this Friday. (1/11). Nevertheless, both parties are committed to run the social project continuously in the coming years. In the closing ceremony, a team of students from UTP, UII and Airlangga University (UNAIR) presented their prototypes or basic model of a program, idea or effective technology that has potential to be marketed.
Through a Mini Symposium led by  Cholila Tamzysi, S.T., M. Eng., Moviin Damodaran–one of  UTP student – and his teammates presented Banatics, a plastic bag made from processed banana wastes. In his opinion, Indonesia has a lot of wastes from fruits, including banana waste. The use of processed banana waste to make plastic has not only been considered as an alternative in the future, but also to reduce the amount of waste while also improving economy in several sectors. 
Different from Moviin's team, Muhammad Rahmat Syafiq Bin Zainal Abidin or casually known as Rahmat, a UTP student in coordination with his team, offered a product in the form of idea to process waste from shoes industry to become wearable shoes for donation to social foundations. "Our main goal is to reduce waste while doing good deeds through social activity, and to try to save our environment," the coordinator of UTP visit explained. 
The name of this product is Airlangga Petromas Shoes (AirPetroS), which is planned to be expanded across relevant companies like Adidas, Nike and more.
In conjunction with Lilis Kistriyani S.T., M.Eng. and Dr. Muhammad Rashid bin Shamsuddin, Cholila gave recommendation and questions such as feasibility test, and how advantegous the products are. 
Potentials for Collaboration
In addition to these models or prototypes with high selling values produced by joint students, there are also collaboration sessions where representatives of student communities like Central Language Improvement (CLI), UII Model United Nation (MUN), dan UII Global Student (GOLDEN) interacted through dialogue process, while expanding their network, digging ideas about student cooperation in international scale in the future. 
The notion of world class university is not limited to the quality of management or campus facilities, but it should also focus on quality and student character oriented toward international issues. These three communities initiated several international collaboration activities including Student Camp, International Community Development , dan ASEAN Youth Forum which is bound to be held in 2020. 
Finally, the event is concluded with testimonies and impressions from students to Yogyakarta and UII. Ting Jean Nee, who is casually known as Genie, a counsellor of UTP revealed that overall, Indonesian society, especially Yogyakarta, are friendly people. "In my observation, when I want to cross the street, people here (in Yogyakarta) would stop and give way. It's different from Malaysia." (IG/ESP)
https://www.uii.ac.id/wp-content/uploads/2019/11/utp-uii-collaboration.jpg
450
698
humas
https://www.uii.ac.id/wp-content/uploads/2021/12/Logo-Web-80-1.png
humas
2019-11-03 08:00:44
2020-04-13 07:44:28
Students of UII and UTP Malaysia Committed to Continue Social Project