UII-UTP Malaysia Cooperation Resulted in Social Project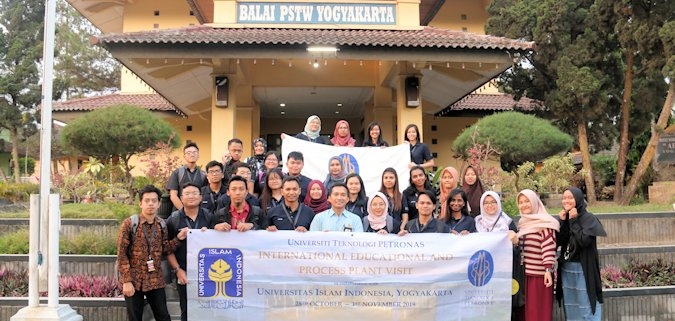 Universitas Islam Indonesia (UII) consistently promotes the expansion of education access, collaboration and also student initiatives and innovation. One of its  manifestations is its cooperation with universities from other countries, such as Universiti Teknologi Petronas (UTP) Malaysia. The cooperation between UII and UTP is implemented in the joint activities & students collaboration program which has begun since 28 October 2019 until 1 November 2019.

Responding to this cooperation, Deputy Rector of Networking and Enterpreneurship, Ir. Wiryono Raharjo, M.Arch., Ph.D expressed that UII is ready to fully support the event. "This event is within the support coverage of Global Engagement of Students where there will be more you can find and you can take advantage of for the development of our nation in the future," he explained.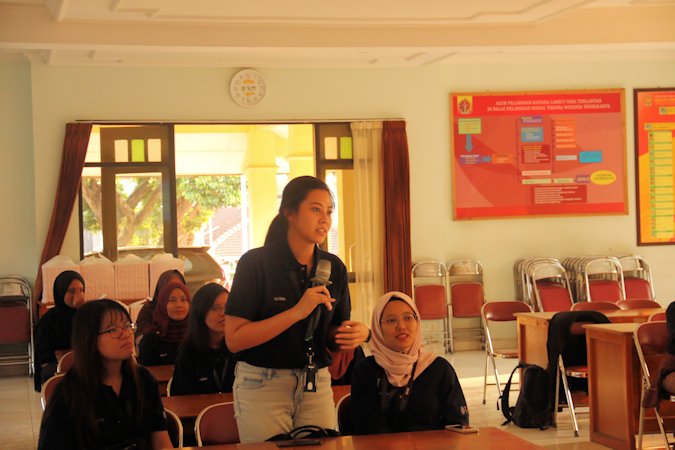 Beyond that, this event also held an entrepreneur workshop with four keynote speakers, namely, Hasyim Abdullah as CEO of ALGIST, Bayu Dharma S as CEO of Temanriset.com, Muhammad Ilham as CEO of Waktukita.com, and Wildan Maulana as CEO of Delokal. These keynote speakers are start-up founders who have been assisted by Inkubasi Bisnis & Inovasi Bersama (IBISMA) UII.
Bayu Dharma S elaborated about technopreneur and his experience in becoming an entrepreneur, from the beginning of his business to the point that it ran and eventually help people by providing jobs. 
According to his opinion, entrepreneurs must be able to follow the pace of trends and technology. "By doing business, we can express ourselves without limitations because we decide, let people work for you or let you work for people," he said.
Hasyim added that the world's economic competition nowadays is extremely high and the impact of technopreneur development will eliminate conventional jobs. 
"We must find a future plan and know how to survive. Therefore, it is the student's duty in the future to utilize technology as job-friendly business opportunity," he added. 
Many young generations have successfully built their business, started by seeing the opportunity and then to want to innovate like Hasyim whose products have been sold for hundred millions of rupiahs. 
The Importance of Digital Marketing
Meanwhile, Wildan emphasized more on the importance of digital marketing, that is a special marketing system through medial canals. There are plenty of benefits in media marketing such as personally-reaching, reaching all elements in the society and locations, with lower economic cost in comparison to direct marketing. 
"Delokal itself is a business with digital marketing, from its product dissemination to service provision. To do this marketing optimally, one must understand the strategy and method, not to randomly use digital marketing," he explained. 
According to Ilham, there are several things we need to learn and prepare before doing digital marketing, such as marketing content and market research. "We must understand to whom we make our product so that it would be easier for us to determine the marketing target. Besides that, we also need to do research on what consumers need so that we can innovate based on market's need," he instructed. 
"Nowadays, people tend to like a light but attractive content, and there are many ways to attract consumers' attention such as giveaway and discount or we can make an interesting memorable tagline so that it will go viral," he uttered. 
The second day is wrapped up with a visit to Tresna Werdha Abiyoso Social Homes to share happiness with elderly and to understand how care homes provide care for the elderly and what their activities are. 
Aside from pursuing education, the participants of joint activities & students collaboration program are also aware of social life, as they apparently asked many questions during the visit to social homes. After they got information, the participants then observed the conditions in the homes and interact directly with the elders.  (CSN/ESP)
https://www.uii.ac.id/wp-content/uploads/2019/11/UII-x-UTP.jpg
450
675
humas
https://www.uii.ac.id/wp-content/uploads/2021/12/Logo-Web-80-1.png
humas
2019-11-01 08:00:53
2020-04-13 08:02:46
UII-UTP Malaysia Cooperation Resulted in Social Project