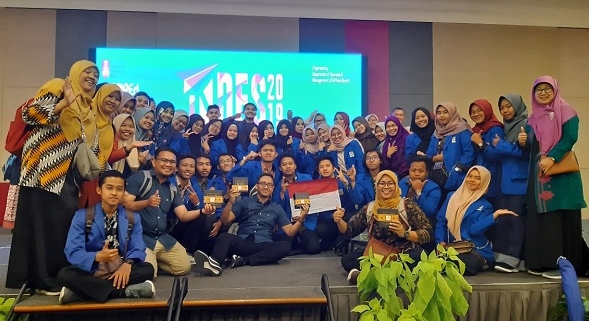 A collection of associate degree students from the Faculty of Economics, Universitas Islam Indonesia (UII) once again received a number of victories in an international competition. At International Invention, Innovation and Design Competition (INDES) in Casuarina Hotel Ipoh Malaysia, Thursday (19/8), these teams brought home 4 gold medals, 4 silver medals, and 5 bronze medals from several categories: Social Science and Entrepreneurship, Green and Sustainability, Design and Creativity, Science Engineering and Technology dan Education.
INDES, an event organized for the eighth time by Universiti Teknologi Mara (UiTM) Malaysia, brought up a theme "Reinventing the Fundamentals" with the aim of presenting the output of development, innovation and designs of researchers from around the world. Besides that, the objective of this competition is also to support quality and valuable products and design prototypes, to stimulate and develop innovative research that creates new products and prototypes.
INDES itself is attended by more than 200 participants from many countries. It encompasses participants of various backgrounds like practitioners, academias, students and general publics from Malaysia as the host country, Singapore, Brunei Darussalam and many other countries. 
Some of these associate degree students from the Faculty of Economics are also in collaboration with students from other departments at UII like associate degree student of Analytical Chemistry, as well as students from the department of Management at the Faculty of Economics, Faculty of Islamic Studies, and also Industrial Engineering.  "It is done so to add more value of the products we bring in the competition" the head of departments of associate degree programs in the Faculty of Economics UII explained. 
The four teams that collect gold medals in this competitions are: Noni Ice Cream, Rendang Pakis, Niacrass Bag: Bag from Water Hyacinth Fiber, and Ethnic Striated Woven Fabric. While other products that also contribute more medals are: Orange Skin Tea "Ayu Jelita", Akulin (Durian Crust Oil), Multifunctional Batik Cutting Board, Herlina Tea (Herbal Tea from Pineapple Skin Waste).
Other products that also received medals are EVENT EASY (E-asy): Application for Event Integration Development in Yogyakarta Based on Industrial Revolution 4.0, Pelpi Bag (A Bag Made of Banana's Midrib), Klik Merapi: Application of Local Tourism Development Based on Halal Tourism In the Era of Industrial Revolution 4.0, Rambutan Skin Tea and Bhacakekok.
On a separate occasion, Dra. Srimulyati, MM. (Head of Associate Degree Program of Management ), Dra. Marfuah, M. Si., Ak. (Head of Associate Degree Program of Accounting) and Dra. Diana Wijayanti, M.Si (Head of Associate Degree Program of Banking and Finance) expressed their support and motivation for associate degree students of the Faculty of Economics to continue their participation in similar events to expand their global outreach, improve self-competence and increase their bargaining power that eventually leads to a positive image of the department.
https://www.uii.ac.id/wp-content/uploads/2019/09/D3-Ekonomi-UII-Borong-Medali-di-Ajang-Internasional-1.jpg
395
589
humas
https://www.uii.ac.id/wp-content/uploads/2019/08/Logo-UII-2019-H2.png
humas
2019-09-30 16:34:39
2020-04-02 16:53:17
UII's Associate Degree of Economics Stockpiled Medals in an International Competition