UII Student Top-listed at National Debate Competition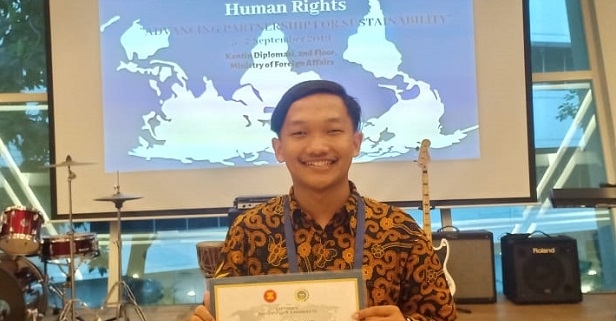 Fauzi Wahyu Zamzami, a student of International Relations department who is also a santri in UII Islamic Boarding School, has been selected as one of twelve best participants in an international debate competition held by the Ministry for Foreign Affairs of the Republic of Indonesia in Jakarta at 5 – 7 September 2019. This national debate competition on human rights brought a theme "Advancing Partnership For Sustainability." 
The participation process began by sending an essay. Out of hundreds of registrars, only 25 participants are selected to be invited to compete in the debate held at the office of the Ministry for Foreign Affairs of the Republic of Indonesia. In this competition, Fauzi sent an essay entitled "The Role of Youth in Taking Advantage of Local Potential to Achieve SDG's 2030."
In the first day, participants received lectures about human rights and debate, delivered by the Representative of Indonesia to AICHR, Representative of Directorate of ASEAN Political Security Cooperation, Ministry of Foreign Affairs of The Republic of Indonesia, Representative of Directorate of Human Rights and Humanitarian Affairs, Public Speaking Practitioner, dan The Winner of AICHR Youth Debate 2018.
While on the second day, debate is conducted in two sessions. In the first session, 25 debaters are screened and 12 of them are selected to advance  to the next stage. Subsequently in the second session, 3 best participants out of 12 participants will be selected as representatives to compete in AICHR Youth Debate di Thailand. Fauzi Wahyu Zamzami is top-listed as one of the 12 best finalists in this competition.
Fauzi asserted that he participated in the competition for three reasons, to enrich his experience, to improve his English skills and expand his connection. "I want to participate in this event in the Ministry of Foreign Affairs, because it has been my unrealized dream since I was in high school," he uttered. 
According to Fauzi, his participation in the debate is also a means of improving his English skills. "I believe that debating will make us more critical, besides increasing our English skills little by little," he revealed. 
As a means of adding connections.  Fauzi argues that by competing in this contest, he can discuss directly with the Director General of ASEAN, Director General of Human Rights and many more. Fauzi, who is a receiver of UII Islamic Boarding School Scholarship further explains that he competed "also to make more friends from many universities in the country and abroad, that will certainly become an investment for me in the future." (AR/RS)
https://www.uii.ac.id/wp-content/uploads/2019/10/Mahasiswa-UII-Masuk-Finalis-Terbaik-Lomba-Debat-Internasional.jpg
450
616
humas
https://www.uii.ac.id/wp-content/uploads/2019/08/Logo-UII-2019-H2.png
humas
2019-10-02 12:21:58
2020-04-15 12:24:52
UII Student Top-listed at National Debate Competition