UII Pioneers Textile Engineering Study Program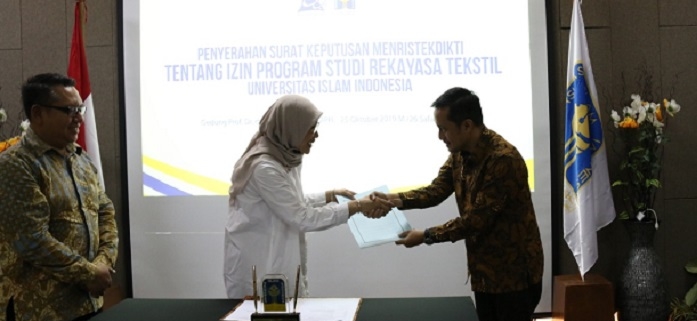 Universitas Islam Indonesia (UII) officially opened Textile Engineering Study Program for undergraduate level (S1) on Friday (25/10). The delivery of Decision Letter of Ministry of Research, Technology and Higher Education Number B/2892/a4.1/HK.01.01/2019 is conducted by the Head of Higher Education Service Agency (LLDIKTI) Region V, Prof Dr. Didi Achjari, SE., M.Com., Ak.,CA., to the Head of Education Development Division of UII's Badan Wakaf Foundation,, Dr. Siti Anisah, S.H., M.H. and Rector of UII Fathul Wahid, S.T., M.Sc. Ph.D., at Prof. Dr. Sardjito Building, UII Integrated Campus.
In her addressing speech, Dr Siti Anisah said that the launching of this study program is a manifestation of UII mandate from Indonesian society, because textile is basic needs of people. This challenge also becomes UII's answer to government's target in attempting to increase national bargaining power globally especially on textile industry. 
"People's basic needs on clothing is increasing every year, therefore there is a need for experts to develop textile industry in Indonesia, to also prepare Indonesia to become the largest textile supplier in the world," Dr Siti Anisah revealed.
Equally, Prof Didi Achjari expressed that Indonesia is the second largest producer of world's Muslim clothing. But the problem is on Indonesia's deficit current economic account which relies on imports. It pushed Indonesia below China and India in terms of textile industry, which Indonesia should have been able to be independent. Hence, there is a need of intervention from higher education to prepare experts who can raise the potential of Indonesia's textile industry. 
"The potential of textile engineering as a new study program is expected to help wider community and stimulate economic growth and business especially Indonesia's textile industry. There could be a research on clothes coloring substances or unique fabric innovation," Prof. Didi Achjari stated. 
The head of Preparation Team of Opening Textile Engineering Study Program, Dr Suharno Rusdi said that besides the uncontrollable entry of imported products, the cause of adversities in Indonesia's textile industry is also from the operations in textile industry especially dyeing and finishing process that often pollute the environment. Thus, the role of higher education is required to provide solution in tackling waste problem in textile industry that often creates environmental degradation. 
"Environmental degradation has become a sensitive issue, UII as a higher education should attempt to back the government by preparing expertise capable of providing solutions to tackle environmental degradation, one of them is through textile-coloring without water," Suharno revealed.
In addition to that, the need of workforce in textile and textile product sector is constantly rising year by year along with the expanding national textile industry. Even in 2019, the number of workforce employed in national textile industry is recorded at 3.73 million people, or approximately 20.47% of total workforce in manufacturing sector. 
"Developing industries should be balanced with increasing competent workers. For in industries, it is not only about production machines. The need of adequate human resources is also necessary to carry forward advanced textile industry in the future," Suharno added. (ENI/RS)
https://www.uii.ac.id/wp-content/uploads/2019/10/UII-Pioner-Program-Studi-S1-Rekayasa-Tekstil.jpg
450
697
humas
https://www.uii.ac.id/wp-content/uploads/2019/08/Logo-UII-2019-H2.png
humas
2019-10-25 18:14:37
2020-04-03 18:16:29
UII Pioneers Textile Engineering Study Program